http://alisonberkemusic.com/tps:/youtube.com/embed/Y-7ENN8dvlg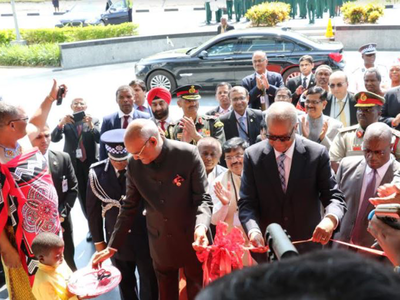 Angelique International Limited News  – Inauguration of  IT Park, in Swaziland by President Ram Nath Kovind
see here now President of India Ramnath Kovind and Prime Minister of Swaziland Barnabas Sibusiso Dlamini unveiled Royal Science and Technology Innovation Park in Phocweni, Swaziland on Tuesday. The park has been constructed by a leading Noida-based Engineering Procurement and Construction (EPC) Company – Angelique International Limited (AIL). The US$ 20 million (INR 130 crore) IT park , financed by the Government of India under bilateral cooperation, is aimed to assist Swazi Government's Sustainable Development Goals (SDGs) through use of information technology.
azithromycin name in mexico While the construction of the IT Park was divided into various phases, including construction of office and e-government facilities, AIL also delivered on transfer of skills to the satisfaction of the Swazi government. Although operational, the park will formally be dedicated to the people of Swaziland by His Majesty King Mswati III, later within a month.
"The newly constructed park comprises of education center – named Advanced School of IT (ASIT) which is running five courses under franchisee agreement with APTECH, one of the renowned IT education provider. It has a National Contact Center (NCC-call center) with working space of 204 calling agents. NCC already has MOU with Swazi Post and Telecom, Swazi Bank, FNB Bank and Swazi Election Commission. There is also an Incubation center (with 7 incubators) for Startup systems. It also houses a state-of-the-art data center with 66 smart racks called National Data Center NDC ) to become hub for hosting data of all Government functions and also to become gateway of all online functions. Migration process to new data center has already started," said Rakesh Kumar Ahuja , executive vice president Angelique AIL.
"Since scientific advances and technological changes are important drivers of economic performance of any country, the ability to create, distribute and exploit knowledge has become a major source of competitive advantage, wealth creation and improvements in the quality of life that will amplify due to the IT sector shifting to more knowledge-intensive industries, services and rising skill levels," Ahuja added.
"Growth of IT sector in Swaziland will stimulate development and transform the country into an innovative land full of opportunities. India, being one of the leader in IT sector, can train our skills that will result in a sustainable advancement in Swaziland," said Vumile Dlamini, CEO Royal Science and Technology Park Swaziland.
Dlamini adds that "the Technology Park will also mobilise new investors and private capital to less advantaged sectors and geographies, create productive jobs, new economic opportunities and enhance access and quality of services – from financial and energy to health and education."
Noida-based AIL is an Indian EPC company delivering complete project solutions in vital areas of power, water, agriculture, irrigation, social infrastructure and industrial projects internationally, as well as, in India. Equipped with 700 plus technical manpower, 32 plus international offices and in-house design engineering capabilities, the company conforms to various ISO certifications.
Source : Angelique International Limited News